ELOPEMENT
Are you ready for a romantic getaway ?
Because yes, an Elopement is that : to escape a few days in you paradise, with your family and closer friends. And that to live a union without any limit ! During many days, live : the attraction of a unique travel + wedding preparation in your suite + a union in front of a magnificent view + a photo shooting in a singular set + a succulent gastronomic dinner… The list is just magical !
Let yourself be seduced by the advantages of Elopement
> Forget all the wedding organisation constraint ! With the Elopment, no seating plan, no wedding invitation to send, no hundred souvenir to prepare … Remain all best part : preparation of the bride and the groom, choice of the outfit, definition of your dreamt menu, writing of your wishes….
> Tell yes with a small committee permit to live a real shift, far from a hundred of guest, far from the daily life.
This type of discreet of union is perfect for couples the complicated family situation.
You have built you nice family and you have children who are enough older to live a wedding and travel ? Go for this solution. That will be the journey of you whole life !
An Elopment don't mean a cheaper wedding. It's mainly a different kind of wedding. Plane ticket, activities, hotels and the intimate reception. The budget can look like an initial budget for a traditional wedding. But this time, live the exception !
The Elopement is a good alternative during the sanitary crises, and maintain a special wedding !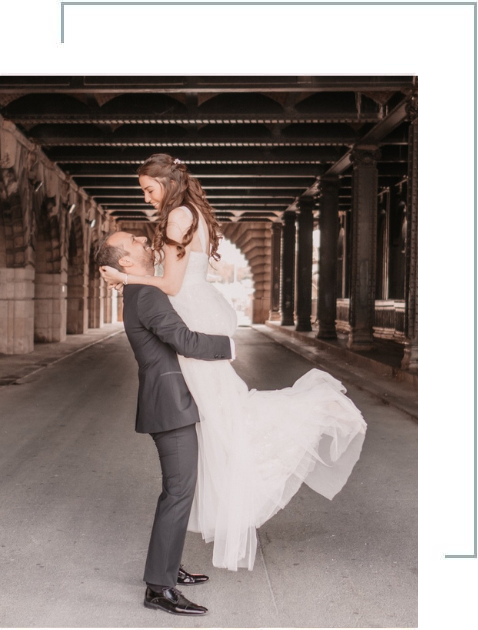 Les Demoiselles de Madame share here, our travel agent hat, and although the hat ofwedding planner.
To permit you to live a unforgettable moment, we take care of the reservation of your plane ticket to the music notes to tell yes !
To well organize you elopement, we define you project and do an audit of your preparation achieved before the wedding.
To guarantee a smooth flow during all our support, a roadbook will be define before the launch of the project.
Discoverhere the Elopement of Sera and Cagri, from Turkey for a wedding in Paris.
70H PACKAGE
Included in our services :
First meeting without engagement to define your dreams, your wishes and your budget.
Creation of a collaboration's planning of 2 to 4 wedding days.
Research of ideals providers. A format of few days will be created (hotel, officiant, photographer, make-up artist and hairstylist, musiciens …)
Logistic definition : reservation of your transport, accommodation, travel activities (nautical, nature, culture…)
Preparation of your union.
In option : our attendance, coordination of D day's providers by Les Demoiselles de Madame.
FROM 2000 EUROS.
Fees not included : venues fees, photographer, florist, decoration materials, prints, travel expenses, …).
Our weddings
Discover some photos of our weddings where les Demoiselles de Madame support couples the D day.